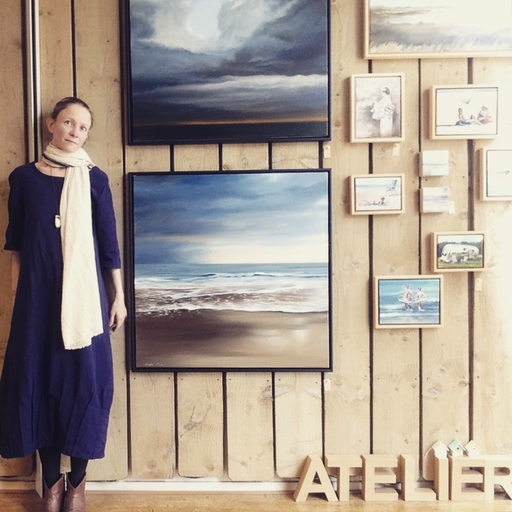 This is the site of Andrea Cook. Originally from England, she studied architecture at the University of Sheffield and enjoyed the marriage of the technical and artistic aspects. Since 2003 she has been working as a professional artist in the Netherlands where she runs a gallery and art centre.
In her paintings and etchings she is inspired by the power of simplicity and the play of subtle colours. Coastal scenes and nature often feature in her work unsurprisingly given the location of her studio in the beautiful province of Zeeland, renowned for the special quality of its light.
She gives classes in oil and watercolour techniques alongside weekly etching and printmaking workshops.
Besides making etchings and paintings, she is fascinated by paper and the process of making it. She makes paper from recycling waste paper and from plant pulps (such as rhubarb, apple and even banana skins). Her enjoyment also lies in the discovery of unexpected harmonies with simple materials. She has written a booklet outlining the basic techniques in the art of papermaking.
Her work is also available via www.atelier28.etsy.com and is in private collections in Canada, USA, Australia, New Zealand, Russia, Brazil, Thailand, Norway, Sweden, Ireland, France, UK, Germany, Belgium, Switzerland, Croatia, Italy, Spain, Netherlands, Denmark, Mongolia and China. For more information see also:
Netherlands: Tholen, Zeeland +31 (0)6 38904426